Got the planters weeded on the freshly painted side of the house yesterday. Just need mulch to finish it off. There was a ton of weeds in there, where? I don't know because it didn't look that bad but I came out of there with bucket fulls! I planted grass, moved a shrub and got the pool ready for my son to splash in. It was hot yesterday and he was much appreciative of the cool pool.
Today we set up the next scaffolding area. Yesterday was our break day. We are power washing later so scraping, sanding and priming will be ready to go on Thursday.
I have still been selling! This is a first that I can remember...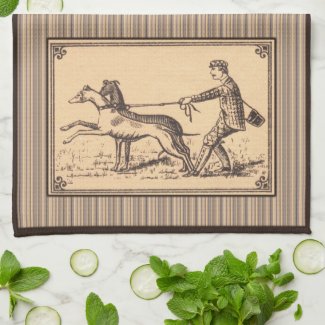 Vintage Man Walking Greyhounds Print Kitchen Towels
by
Kinder_Kleider
See another
Kitchen Towel
at Zazzle
I love this vintage print. I am happy to see it being sold! One of my favorites cause I love dogs!