Well the heat has arrived! We were only able to work to about noon before the sun hits that side of the house and makes it unbearable. We did finish the upper section!!!
It looks so nice, you can see the old stain up in the left hand corner on the dormer. It is a big difference! Today we remove the upper scaffold and work on the lower section, should not take long. It is in good shape and possible get it done if not today definitely tomorrow. Then we move the scaffold to the next side of the garage!
Today is a field trip for my son at camp. I have to get him up soon. They leave early today. Exciting, they are going to a candy factory!
Quick showcase...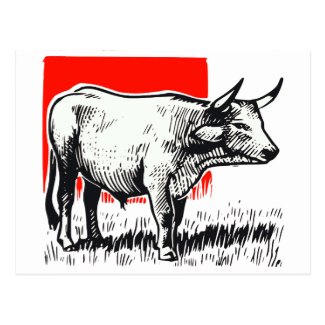 Cow Woodcut Postcard
by
Kinder_Kleider
Get the best in
online postcard printing
at zazzle
First time this design sold! Simple but nice. Been selling at least one item a day for the past week. I like seeing that. Though I do feel guilty because I haven't posted anything new. Once the house is painted look out!