Didn't do to much yesterday except set up. I had an appointment in the afternoon. Today I will do some scraping and sanding. Even though it was hot yesterday I was cold. Don't know if that is good or bad! Maybe working outside for a couple months has acclimated me to the weather.
My son has a field trip to the movies with camp today. Got to get him there early for the buses. I might pick him up earlier because of the super hot weather we will have today.
Still have more to showcase...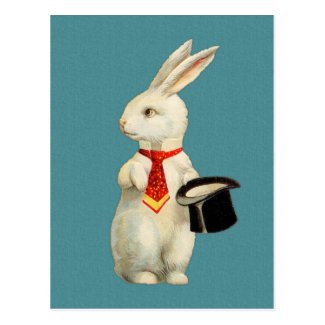 Vintage White Rabbit Postcard
by
Kinder_Kleider
Shop for Rabbit Postcards online at
Zazzle.com
One of my favorites! We have two bunnies that live somewhere in our yard. They are not afraid of us and hop right by us. They enjoy eating the bird seed that is knocked down from the feeders. They are adorable when they stretch out in the cool grass. Pampered bunnies!!