I did not realize how much we got done yesterday until I realized I could hardly walk! My dad worked on replacing some boards and some missing shakes and I scraped and sanded. Well just a 5 minute sand on the one small edge we didn't get to and we are priming and painting today! I think it is optimistic if we get two coats of everything on the upper part of this section. Definitely will have the white roof trim done and first coat of brown.
Looks dreamy but I think I got a fingerprint on the lens! My son is off to bowling today. We have only bowled on the Wii so this is real bowling. He can't wait.
Today I have another sale to show..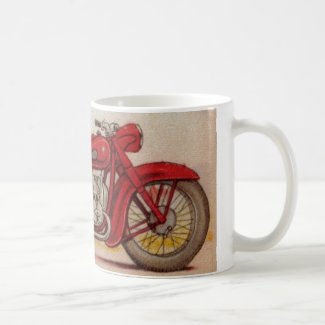 Vintage Red Motorcycle Classic White Coffee Mug
by
Kinder_Kleider
Design your own
coffee mugs personalized
at Zazzle
First time this print sold on a mug. I like it! Have a wonderful weekend. I know what I am going to be doing, painting a whole lot!