I have almost all the scrapping and sanding done on the trim. Just a 3 foot by 2 foot section up high. That part is a bit scary and I was too tired to do it properly and safely yesterday. I want to get that area done today and the bare wood primed. Tomorrow is the 4th of July holiday so no work that day, maybe!
My niece returns home today, my son is sad. He wishes she could stay. That will be hard later when it is time for her to go. He will be lost for a few days.
I have another sale to showcase...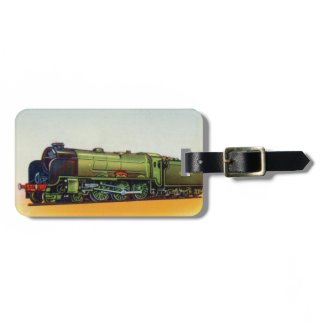 Vintage Green Railroad Engine Bag Tag
by
Kinder_Kleider
Check out additional
Bag Tags
online at zazzle.com
A luggage tag, with a train! I would love to take a train ride across the country. That would be fun.
Enjoy the holiday tomorrow
.
I know we are grilling and eating potato salad..YUM!