No work on the house yesterday with the rain so I caught up on errands and chores. Today I only work a half day on the house, if it is dry, and then I have some food prep for a big block party tomorrow and I am taking my son to the local fair tonight as well. It will be a busy day and a fun night! There are supposed to be elephants there so my son is thrilled. I will be taking pictures!
I can't believe and I am so happy that sales have been coming in everyday this month. It is so wonderful to see. I know I haven't had much time for new items but that will change soon since the house is so close to being done! Today I have a familiar design to show...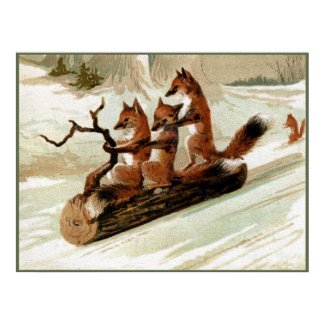 Fox Sleigh Ride Vintage Print
by
Kinder_Kleider
Check out other Winter Posters at
zazzle.com
I have a feeling we will be sleigh riding very soon! Don't think I would use a log though. The weather experts are predicting a colder and snowier winter with El Nino. It should be interesting. Have a wonderful weekend, enjoy the warm temps in the Northeast. Fall is just around the corner!