I started to get my own area caught up. My desk is full of paperwork and I started going through that, started fall cleaning and after putting away my son's laundry I need to go through all his clothes. I think he grew two sizes the past month! I also am working on putting my last design on more products. Then, a biggie, I sent out my resume for a job posting I found. That is exciting as well. I have been on some interviews the past few months but as you noticed I didn't mention them because I didn't get the jobs.
Today is supposed to be beautiful. I have some plants to remove for the winter, zucchinis need to go. I want to get a walk in today. I think better after a walk. I hopefully will see my desk by the end of the day! Also get the products posted I am working on uploaded to Zazzle. Oh, we got a pressure cooker and I am going to try and do pork ribs tonight. I will let you know how that works. We saw it on QVC and they got us hooked! I am excited, supposed to be fast and delicious!
Today's sale showcase is...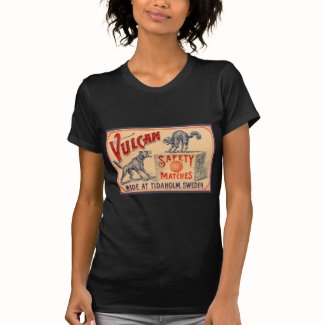 Vintage Vulcan Safety Match Label T-shirts
by
Kinder_Kleider
Create t-shirt
at zazzle.com.
A T Shirt! I like this vintage match label as well. I haven't sold a Tee in quite some time. This is nice with the cat and dog. Need to go through my vintage labels and get some more on!