When I wrote my post yesterday I did not look outside. Well it rained until 9:00 am. Out in the pouring rain with my son waiting for the bus! Then poof, it disappeared and the sun came out and it turned into a beautiful day! I got my car washed and waxed ready to go in for service today. I think I will be there awhile.
Started painting a lawn ornament that I stole from the yard. It's a cute dog but the weather has removed quite a bit of its paint. It was done in an antique copper look so now I am painting it more realistic. We will see how that turns out!
I made more sales yesterday! I am so happy! My browser shut down and the bulk upload I was saving until Zazzle fixed it bug is gone. I am so mad...
Well today I have something chilly...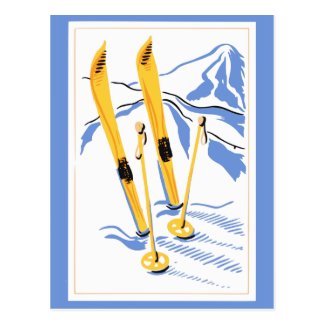 Vintage Ski Art Postcard
by
Kinder_Kleider
Create a
Post card
with zazzle.com
This is a popular ski print and you probably have seen it in the past. Simple but gets you in the mood for winter!