A three day weekend this week! I am making a chocolate pie for Monday. I usually have problems with chocolate so just a sliver of a slice for me but pile on the potato salad!
It was hot yesterday. I did too much, only made it to noon but was barely moving afterwards. At least today the humidity will be gone. We have to finish the first coat of finish white and do the second. That is our goal today. I am sure we can do it!
This is also the third day of school for my son. He loved music class yesterday and next week they play some instruments. Today is library day so I am sure a great book will be coming home with him. I had lots of homework yesterday! I think it was 10 forms to fill out.
Still selling at least one thing a day! Yea!! Today is the third motorcycle postcard sold...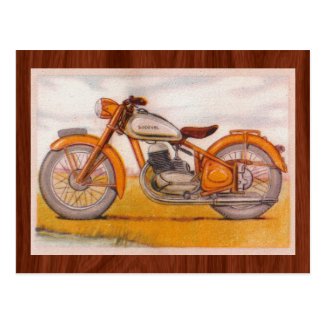 Vintage Gold Socovel Motorcycle Print Postcard
by
Kinder_Kleider
Browse Socovel Postcards online at
Zazzle.com
Have a great holiday weekend and I will be back on Tuesday with pictures of possible an almost finished house. We still have some siding to put up so I think by the end of next week we will be done!!! HAPPY WEEKEND!!!!