Okay, am I ready for Tuesday? I hope so!! Rain is supposed to come in later today and be rainy for the next few days, at least what one weather outlet says, check another and it is different. I guess it is a wait and see. Got some fall decorating up yesterday after straightening my son's room. He came home to fall leaves all over his room!
Sold more products yesterday! I think the holiday rush might be early this year. That would be nice! Here is a holiday sale...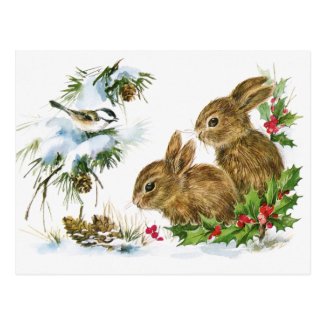 Vintage Holiday Bird and Bunnies Postcard
by
Kinder_Kleider
View more Bird Postcards at
zazzle.com
I do love this vintage print! It is so adorable with the bunnies and bird. If you remember this image sold on a cutting board awhile back. I wonder what other products this image will be sold on? Can't wait to find out!