Okay there was sun on the thermometer but it did say 100 degrees and it felt like it too. We really only were able to work till 11:00 am. It was so incredibly hot on the roof. I am sure it was well above 100 up there. We did get progress done! The vent is uncovered and molding was installed around it. The windows have their final coat of paint and I primed and painted one side of new shingles, even though not finished yet, looks good. Hot again today. We were hoping to be done by Thursday afternoon, that is tomorrow! We'll see what we can accomplish today!
There has been a big sale going on at Zazzle so I have been making many sales! Today I have a Halloween print...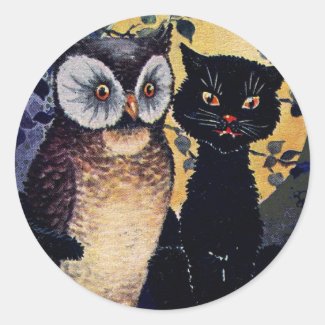 Vintage Owl and Cat Halloween Greeting Classic Round Sticker
by
Kinder_Kleider
Check out other Black Stickers at
zazzle.com
So cute, a cat and an owl. I guess Halloween is just around the corner. Need to get my son to decide on a costume so I can find/make it in time for the parade at school.