I scraped and sanded yesterday, only till about 10:45 because then it was way too hot! I also took a picture of the work zone and a final picture of the last side without the roof jacks.
When we finish this dormer the back will be total done!! I can't wait!!
Now you see what it looks like without the roof jacks and ladders. Looks great. We will clean and seal the brick steps too so that will really make the front pop.
I made more sales!! I am so excited...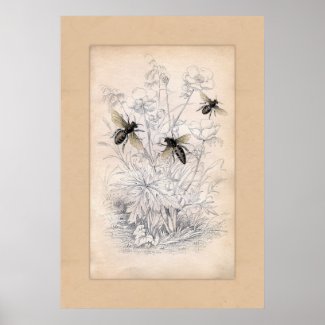 Vintage Honey Bee Art Print
by
Kinder_Kleider
Check out more Bee Posters at
Zazzle
The honey bees just might be edging out the lamb as most popular design. I have other sales yesterday with the honey bees. Make me smile!