Okay, forgot that yesterday was the day my niece returns home from her visit. Thought it was today but got mixed up. We spent the day traveling and enjoying the beautiful weather. I remembered that I wanted to take a picture of our progress on the house, but it was dark outside. Will have several for Monday. I got all mixed up.
On a lower note...I found the bird, or actually the rest of the bird that disappeared from its resting place. He received a second burial and a massive stone put on top. Let's hope he gets some peace now.
Today we are working on the final side of the house, that will leave front and back dormers for last. Exciting!!
Today is a familiar print...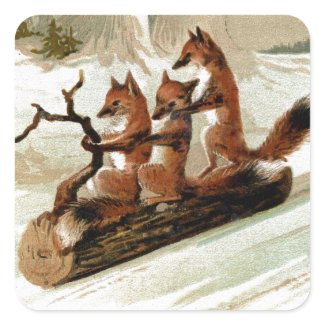 Fox Sleigh Ride Vintage Print Square Sticker
by
Kinder_Kleider
Browse Winter Stickers online at
Zazzle.com
Sell this one about once a week! Haven't had a sale in a few days...hopefully today! Enjoy your weekend and be back Monday.