Well it's not just me that is not feeling well so we decided to wait till next week to start the final dormer on the house. We just might be working a little too hard and deserve the break.
School starts next week!!! I can't believe it. All this week I have been waking my son up just like he would for school. He had afternoon kindergarten last year and did not have to wake up early but now 1st grade is all day he has to get up by 7:30am. He is doing well with it. Today I will get all his supplies labeled and put in his backpack for Wednesday.
I have been making sales! Was hoping to get more artwork on, maybe today. Today is the honey bee print again but on a different product...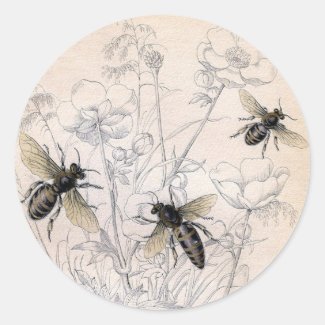 Vintage Honey Bee Art Print Classic Round Sticker
by
Kinder_Kleider
Create your own sticker
online at Zazzle.
It is nice to see something so popular sell so much. I am hoping my bicycle watercolor will sell soon. Usually it takes a month or two of being posted in order to make the first sale. Please enjoy your last weekend of August and I will be back Monday!