Rained again yesterday. Got my son's room cleaned, the hallway cleaned and the dining room clean, all filled with toys. We have family coming in for a few days later this week so what we put off while painting has to be quickly put back in order! Today will be nice. Hopefully we can finish this last side section of the house then it will be the dormers! We have so many people stopping and admiring the house. That is nice, the house needed it.
Been a little under the weather the past few days, so has my dad. Apparently we had some gluten. We got take out on Sunday and ordered our usual but they probably changed the recipe. Should have asked, or really ask every time.
My lamb design has sold again...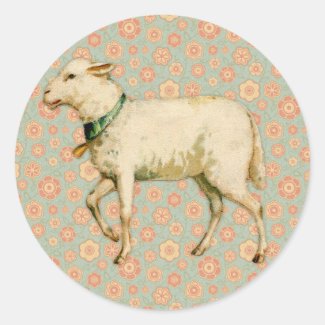 Vintage Lamb Art Classic Round Sticker
by
Kinder_Kleider
Make
personalized stickers for favors
online at Zazzle.
I really love this vintage print. It is so sweet. Very popular. I had a white fuzzy lamb when I was young, not a real one, and was a favorite toy.