What a lovely weekend. We got a little over 5 inches of rain but Sunday turned out to be so nice. We needed the rain. On Saturday we went to an apple orchard and got apples and pumpkins!
I was able to give the lawn ornament I painted a clear coat yesterday so I will assemble and take pictures today and you should see it tomorrow! My computer mouse is giving me trouble. I will try and clean it and hopefully it will continue to work for me. Don't want to have to get another one yet. I tend to wear them out fast.
Today's showcase is perfect for October...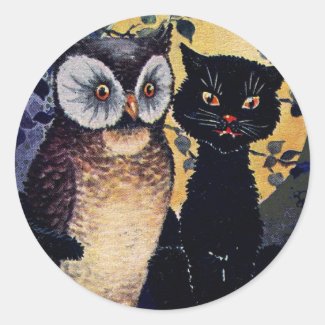 Vintage Owl and Cat Halloween Greeting Classic Round Sticker
by
Kinder_Kleider
Make photo stickers
at zazzle.com.
An owl and black cat! I love this vintage Halloween print. I can't believe it is October already and that Halloween is just around the corner!