The leaves are changing, the air is crisp. It is so lovely outside. Certainly will enjoy this season. Got most of the summer furniture cleaned and put away. Got to get ready for snow. That will be here in no time!
I am still working on my Zrank and hopefully will be through all my current products this week. Deleting anything that has not sold. It will be tedious but I will get it done.
I have a sale to showcase...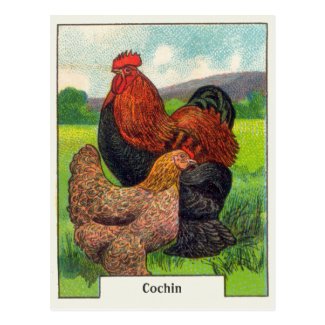 Vintage Cochin Chickens Postcard
by
Kinder_Kleider
Find other Chicken Postcards at
zazzle.com
I sold a bunch of these postcards with lots of other chicken breeds. I like them and I am so glad others do as well! I have had a good past few days of sales. I am grateful for this opportunity. Enjoy your Monday!