My eyes are watering, I have 71 more pages of 100 products to go through then I am done with that portion. I know it will take me through mid next week to finish because my eyes just won't take it. My ranking hasn't moved but hopefully when I tackle the other areas Zazzle would like done I can move that rank a bit.
Today is going to be a rough day, have a lot on my plate as well as the normal domestic duties. I will at least get 10 more pages of products checked. That is a goal. I also have some paperwork that I have been putting off that I need to resolve so that is on the docket as well. Already dreading...
Today's showcase...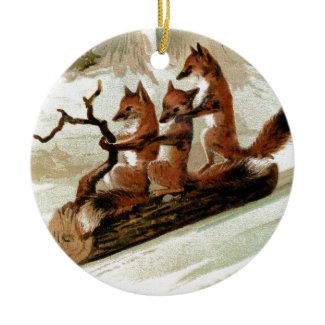 Fox Sleigh Ride Vintage Print Double-Sided Ceramic Round Christmas Ornament
by
Kinder_Kleider
Create
customized christmas tree ornaments
at zazzle.com.
I love this print and so does everyone else. I think besides the honey bees this is one of the top sellers. First time on an ornament and I sold a few in this order. I am happy and I hope those who receive this ornament love them as well. Enjoy the weekend. I will be carving pumpkins! I can't wait. Be back on Monday.