but will change as the day goes on. We have a cold front coming through. I think I will be able to get another walk in today before the change, then rain and cold weather coming.
I managed to get my 10 collections done, raised me to zrank 3 so I will see what else I can do. It isn't easy, especially use older folk!
Today's showcase...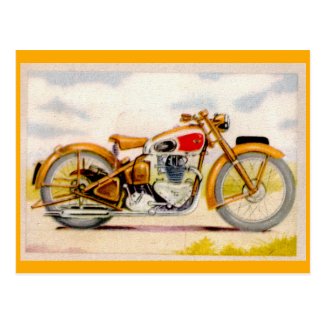 Vintage Motorcycle Print Postcard
by
Kinder_Kleider
View other Motorcycle Postcards at
Zazzle.com
Another vintage motorcycle! I love these prints, if you didn't realize that already. I know a short post today. I am a little frazzled with some paperwork and the new Zazzle stuff. I hope to get everything settled soon and be back to creating new stuff!