Finished the table and chairs yesterday. They are stained. Yeah! The look nice, forgot to take a picture but will today. We had a visit the other night. Five bears! One big mom bear and her 4 cubs. They decided our hummingbird feeder looked delicious so they broke it and had a nice little drink.
I have to remember I have presents to wrap for a birthday party tomorrow. I almost forgot already!
Nothing sold on Zazzle or if it did I haven't been notified. My previous sales still have not shown up on my account yet. Hope they get it fixed soon. I will try and get a new image on today. So now I will showcase another popular item...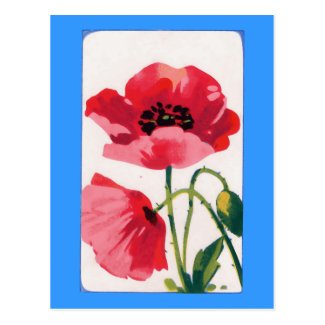 Vintage Poppy Print Postcard
by
Kinder_Kleider
Browse more Flower Postcards at
Zazzle
I made a large painting of this print for my mom. It is a pretty floral design.
Have a great weekend!!