All but one door has two coats of paint. Plus the other door has new screening put in. We might hold off on the second door, it is great shape. We may paint it later. Staining the decking is next then about 30 pieces of screening need to be put in. Then we can assemble the furniture again. I am exhausted. Cleaning up the painting tools is on the agenda today. Maybe some floor prep work. All in all it is working out great.
Going to make cupcakes for Memorial Day. YUM!!! I think it is bratwurst and potato salad for the meals. YUM YUM! Great day to relax.
Made a sale yesterday! Love this one too...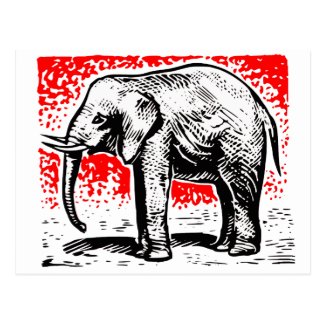 Elephant Woodcut Postcard
by
Kinder_Kleider
Find more Elephant Postcards at
Zazzle
Enjoy your holiday weekend. Be back on Tuesday. I am going to rest all day Memorial Day...more projects await!