I knew it was going to be cooler but wow, it was in the 40's with a 30 degree windchill during the morning and early afternoon. The paint we have can be used down to 34 degrees so yes we were painting. I had three shirts on (coats packed away for the summer), some gloves and a scarf I left out, leg warmers and hot lemon water. We have one length of eaves to paint two coats and one more door and the painting is done. Then comes the re-screening and staining. I think we will make it for Memorial Day!
No sales yesterday either..sigh. So today I will showcase a popular item from my store. I don't have new stuff yet but will soon!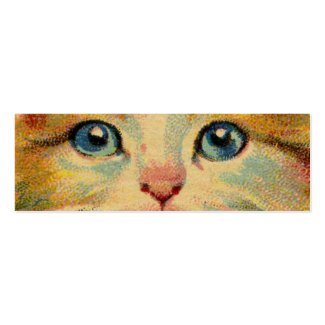 Vintage Cat Portrait Double-Sided Mini Business Cards (Pack Of 20)
by
Kinder_Kleider
Check out more
business cards at Zazzle
I like this one, a unique business card!