Loved the holiday vacation, went by fast. I can't believe how my life has changed in the past few weeks. I will go into more detail later but for now I am very happy. I know that these changes have cut down my time on Zazzle. I plan on doing some more just need to get into a groove. It is tough with my son having homework every night, so when I get home we have almost an hour of that. Weekends are now catching up on housework and bills. I know this is the normal for most people but it is new to me and I need time to adjust. I am happy I have enough stuff and variety on Zazzle that I make sales just about every day. I am so grateful and thankful for that.!
Today's showcase...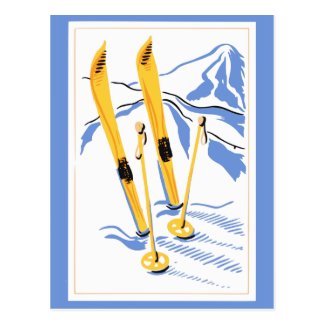 Vintage Ski Art Postcard
by
Kinder_Kleider
Make postcard
designs on zazzle.com
It is just about the time of year for skiing! So I am very pleased to see this popular print sell every time!