Thanksgiving is just days away...turkey and pie! YUM! Though I am going to be good and just have one, or two slices of pie. I will pig out on turkey but be good on the sides. At least I will try! Needed the last few days to rest. I am not used to not being home while working so now it is a mad dash to get homework done, chores done, set up for next day and try and Zazzle. I know it will take time for a routine to set in place, sometimes I get impatient!
Today's showcase...been selling lots...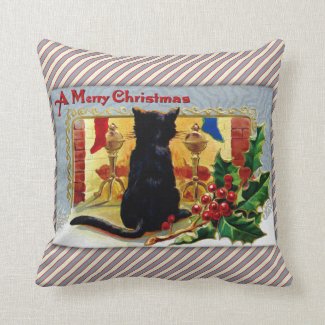 Merry Christmas Kitty Pillow
by
Kinder_Kleider
Look at another
Pillow
OMG!! So glad this Christmas kitty vintage print sold on a pillow! I love it so much. I think it is one of the best Christmas images I ever saw. Well pretty close. It is just really cute!