My son ended up home one more day. He didn't sleep well the night before and would not be good to go to school. Called and got the homework so we worked on that. So glad he is feeling better!
I got an onsite interview coming up! I am so happy. Wish me luck again!
I did not get to Zazzle of course with two interviews and a sick child. I did make lots of sales though and am thankful for that. I tend to sell my self short at times and not think what I do is worthy of purchase but apparently it is and I need to give myself a bit more credit!
Today's Showcase,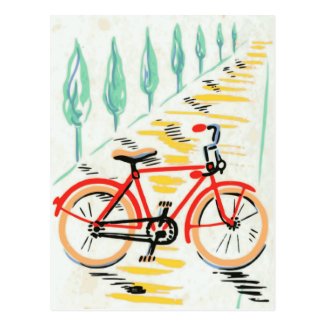 Vintage Bicycle Art Postcard
by
Kinder_Kleider
Find more Biking Postcards at
Zazzle
This little vintage bicycle print pops up every so often. I love the simple colors and bright red bike!