Well, lots of storms yesterday and some tornado warnings. I had to keep the computer off just in case. I did not get what I wanted done and posted. Did get quite a bit of a design made. Learning things as I go, always!
Should be able to complete that design today and maybe start another. It is the last full day of school for my son. He has early start and finish, about 1 and 1/2 hours of school tomorrow through Friday. He starts camp on Monday. It is a day camp and he should have lots of fun.
Made a bunch of sales and guess what. They are showing up again on my account! This is a favorite one I sold the other day....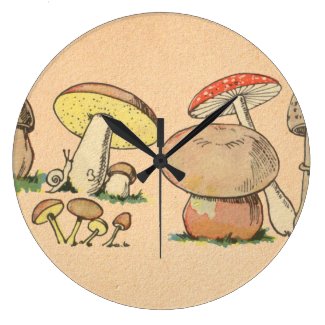 Vintage Mushroom Print Wall Clocks
by
Kinder_Kleider
See more Mushroom Wall Clocks at
zazzle.com
I really like this one. Mushrooms are really cool!