Sometimes it seems everything is just not going your way. I was all set to work on Zazzle. Nice rainy day so I felt inspired. I noticed a little flag blinking on my computer screen. I checked it out and it was a notification that my back ups have not been run because the computer does not see the external drive I use. It took some time to get everything back to normal and run a back up. I don't want to lose anything I have done so I run a backup once a week. I have all my photos, artwork etc all on my computer. I have to keep a close eye on that so I don't miss another backup. Apparently it has been quite awhile since a back up was performed. Luckily nothing happened during that time! Try again to post new stuff today.
It is the first of three early dismissals for my son! He will be in school a little over an hour than back home. I can't believe the school year has gone so fast.
I have a bulk sale yesterday! I love seeing those. Here is what I sold...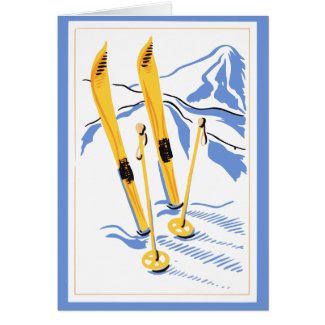 Vintage Ski Art Stationery Note Card
by
Kinder_Kleider
See other
greeting card templates
on zazzle.com
I love this simple vintage design.