My list of foods I can eat gets smaller all the time. I obviously got into some gluten over the weekend. I know I had a week or two ago, not much as gluten but too many grains, and have been recovering from that. But dealing with issues from some sort of allergic reaction. I think it is just meat, veggies, fruit (except bananas) and some fish (no shellfish) that I will eat from now on and homemade. Any treats will have to be on holidays and only a small portion. Like I can ever have a small portion of treats.
Christmas is still going on today! Got only one image on products yesterday. Got to step it to get everything I created up and posted!!!!!! (too much caffeine? Possibly)
Today another Halloween image to bring in the official start of FALL!
Vintage Halloween Cat
I did some rework on this design to make it more usable on larger products, only adjusted color and added the paper texture because that was missing. Check all the spooky products
here
.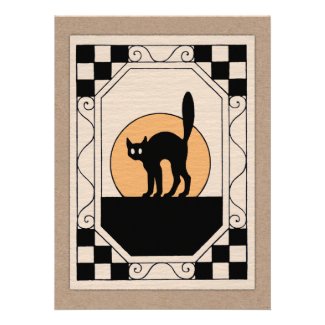 Vintage Halloween Cat Custom Invites
by
Kinder_Kleider
Look for more
cheap invitations
at zazzle.com
---