Hoping to finish decorating, wrapping most of the presents left and then some shopping for final items during the week. I have cookies to bake, volunteering at the school for a few days and what ever else pops up! Keeping me busy. Will be nice to enjoy the holidays once the rush is done.
Zazzle has been doing nicely. I like seeing that. Wish it kept up like that all year. That will be a goal for next year!
I am stuffed...ate too much over the weekend. I figure that is what January 2nd is for....back to regular eating and getting myself back in shape. I am not as bad as last year. Had surgery last year and gained a lot of weight after that. Lost it once I had recovered. Just going to enjoy the rest of the year, keep my normal exercise routine and when January hits I will be fine.
Today I have more holiday images!
Ice Skating Snowman
I love this vintage snowman. I added a background and he just pops off the page. Check out all the products
here
.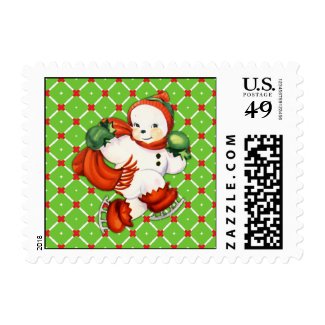 Ice Skating Snowman Postage Stamps
by
Kinder_Kleider
Make your
stamps personalized
from Zazzle.
---