I can't believe how fast the week went. I have a bunch of errands to run today, last dentist appointment for my son on Monday and have more year end items to tie up next week. I managed to get a new design posted to Zazzle yesterday between appointments. It was a miracle to finally get something on Zazzle!
Have had a headache since yesterday and trying not to let it get to me. Keep on moving! I am done Christmas shopping, just have to wrap. Just about done decorating. Some more snowflakes to cut out. Cookies in about a week and a half will be started. The holiday is upon us!
Today I have...
Vintage Holiday Bird and Bunnies
I love this vintage print! Check out all the products
here
!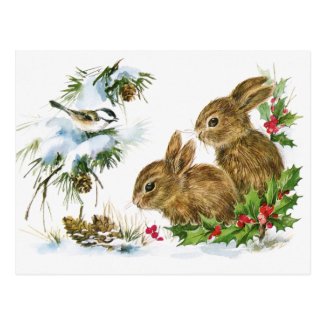 Vintage Holiday Bird and Bunnies Postcard
by
Kinder_Kleider
See other Bird Postcards at
zazzle
---