We did laundry yesterday, wrapped 90% of our gifts for Christmas. I made chili and corn bread. I am super duper exhausted. Our poor kitty did not feel well last night. She has a fickle stomach and something she ate did not agree with her. I was tending to her most of the night. We are supposed to get snow, or maybe not or maybe ice or maybe not. Since my son has afternoon kindergarten I won't be sure if he has school until close to bus time. If the school lets out early he doesn't have class. If it is a delayed start he has a very short day at school. I am supposed to go into school today to help with some packing of donations. That is also up in the air. I will be in school Friday as well.
I do have another image to show!
Vintage Xmas Greeting
I love this vintage greeting card. I could live in Christmas all year round. Check out the products
here
.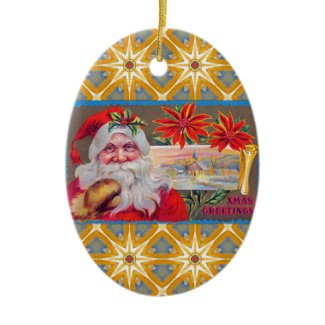 Vintage Xmas Greetings Ornaments
by
Kinder_Kleider
Browse other
Santa Ornaments
---