The new room is coming along nicely and still at it today. I have a party to prepare for my son. His 6th birthday is coming up fast! I can't believe that either. Six years already!!!
Nothing new on the Zazzle front. Did sell some more items last night. The honey bee print I have sells nicely. Just sold a phone cover! I do have a mountain of ideas but I must wait until construction is finished. Most likely next week we will be done.
Today I have a really sweet vintage Christmas card!
Vintage Santa and Telephone
I like this print. So sweet! Not much to repair on this print. Check all the products
here
.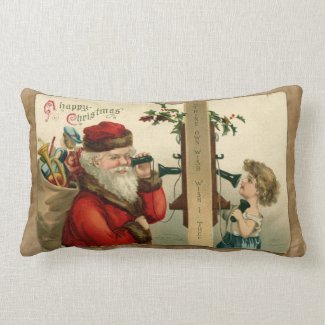 Vintage Santa and Telephone Throw Pillow
by
Kinder_Kleider
Browse for
Pillows
at Zazzle
---