Maybe 6" of snow by the end of Wednesday! It was almost 70 degrees yesterday. Now that is wild weather! Speaking about wild things, I went to the supermarket yesterday to pick up the last remaining ingredients needed for Turkey day dinner. Thought if I get today I would avoid the crowds. Well I was wrong. I spent more time in line than shopping the store! Everybody is getting the Turkey day stuff early. I am sure the upcoming snow storm has something to do with it!
I will be back to Zazzle next week. I am really excited to get the ideas out of my head and on to digital paper.
Today is a very beautiful vintage greeting card print.
Vintage Girl Christmas Greeting
She is so lovely and dressed so beautiful! One of my favorites! Check out all the products
here
.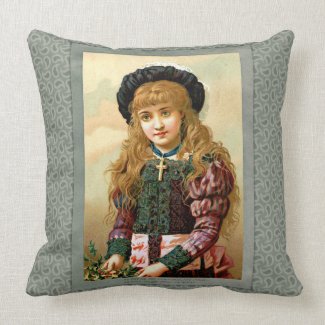 Vintage Girl Christmas Greeting Throw Pillows
by
Kinder_Kleider
Browse other
Holly Pillows
---