Now the floor is looking nice. Will post pics when done, I am liking it. It was an epoxy grout so something different than the usual stuff. I will have quite a list of talents by the end of this project.
I had a nice day of sales yesterday. Many science theme items. I like that! I am a geek you know! Some lovely holiday cards as well. Hopefully I can get some New Year designs on before the new year!
Today I have a cute Christmas design!
Vintage Holiday Bonnet Girls
My grandmother made me a quilt of bonnet girls and this vintage image reminds me of that special quilt! Check out all the products
here
.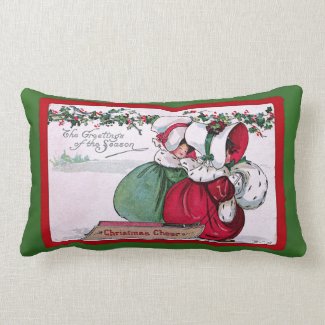 Vintage Holiday Bonnet Girls Throw Pillows
by
Kinder_Kleider
Look at Child Pillows online at
Zazzle.com
---