Still hoping this cold goes away, getting better but slowly. I have one more butterfly to post and I will be finished with the series. Then it is on to the next design!
Cold yesterday and gloomy, today getting warmer. I just want to sit in the sunshine for awhile!
Today I have some musical bunnies!
Vintage Musical Bunnies
A nice vintage print, just some color correction and a cute background added for super cuteness!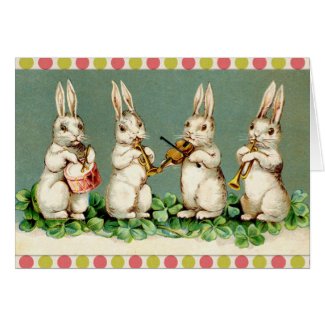 Vintage Musical Bunnies Cards
by
Kinder_Kleider
Look at Bunny Cards online at
Zazzle.com
---