For some reason my computer is running so slow, even as I type this post I am already several words ahead and the screen is still catching up....grrr. It is taking so long to work on products to upload but I really want to get my new stuff on so even it it takes longer I will get it done, and see what is going with my computer.
I was missing a whole product section on Zazzle, so I have been trying to get some of my images on ... business cards. I either forgot Zazzle offers them or maybe did not think of using them with my images but I now see and have had sales with business cards. Here is one...
Vintage Motorcycle Print I have a full line of different motorcycle images available on business cards in my
store
.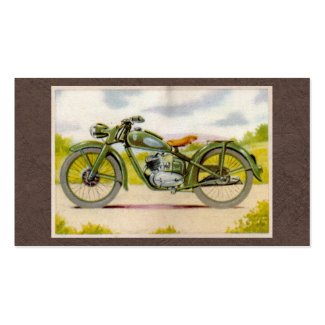 Vintage Motorcycle Print Business Card Template
by
Kinder_Kleider
Look at other Motorcycle Business Cards at
zazzle.com
---
---