I like Zazzle's quick create, I can work on 80 plus products at once then just have one page of product info instead of doing each product separately. Well I clicked the post button but was not logged in and lost all 80 plus products I worked on. I don't just upload the products, I go into each one and make sure each image is placed correctly, resized right and so on. Well now I have to do each individually and that will take a long time, they do save each individual design that I worked on but can't bulk upload. I guess I know what I will be doing throughout today and tomorrow.
I don't know if I will post at all tomorrow, got lots of cooking and baking to do. My Mom's birthday is Saturday and I will be cooking everything the day before so we can relax and enjoy the day!
Christmas design today!
Vintage Santa Print
Nice vintage cutout of Santa Claus! Just a bit of repair on this design, not much. I love Christmas!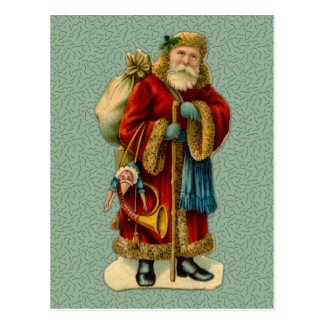 Vintage Santa Print Postcard
by
Kinder_Kleider
Design
Full color post cards
at zazzle
---