I have to eat gluten free, my son was on a gluten free diet since noticing some signs when he was an infant but to determine if he is truely celiac I had to start gluten in his diet. It has been almost 2 months and he has been fine, great and no problem. Me, well forgetting that his plate has wheat crumbs on it and eating his carrots, licking your fingers after making a sandwich...shouldn't do that anyways....has left me all upside down and in such a brain fog. Then there is sugar....a tiny bit and I am fine but add a "normal" amount and I have muscle pain and muscle cramps like no end. I say this after having some chocolate candy. Shame on me!
Vintage Purple Motorcycle
I hope the work I have done on one motorcycle print has worked out. I uploaded it but to me nothing is ever done, at least art wise. I always find something I could have improved or done a bit different. It is hard to finally say something is finished.
This is the motorcycle print on a laptop skin. The image was offset badly when printed and blurry as anything. I did both hand and digital restoration on it. I think it would be nice as a gift for someone. I still have to make it into a poster. I think when I have a bunch ready I will purchase the series and hang them in my son's room.
Vintage Purple F.N. Motorcycle Print 17" Laptop Decals
by
Kinder_Kleider
View more
iPod accessories
at zazzle.com.
---
Three Sledding Foxes
I also uploaded this cute vintage print of three foxes sledding on a log. How cute! This is sure one of my favorites!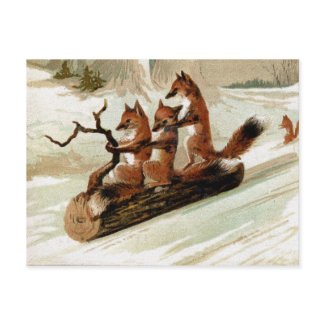 Fox Sleigh Ride Vintage Print Post Cards
by
Kinder_Kleider
Get the best in
online postcard printing
at zazzle
---