I think I am better. Was a fun night last night at the school, it was the Art Show. Very fun and beautiful art! This is my son's art! I can't wait till he brings it home.
I will be at the school again today for library help. Plan to make pizza tonight (yum). Starting moving items into groups for the yard sale. We have so much stuff. We need more tables!
I made some more sales yesterday. This is another of my favorites that sold.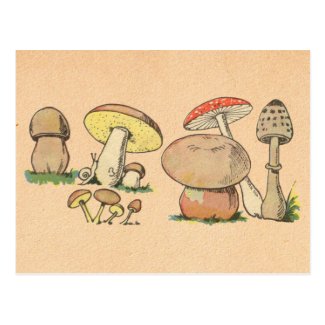 Vintage Mushroom Print Postcard
by
Kinder_Kleider
Find more Mushroom Postcards at
Zazzle
I love mushrooms! Not to eat (yuck), but love how the look and the different varieties.
Supposed to be a beautiful weekend so enjoy and see you Monday!