Saturday and Sunday were lovely, 80 degrees and sunny. Today, rainy and cool in the 50's. What a difference.
My son is sick again. Sore throat and ear ache so watching him today and probably taking him to the doctor. He didn't get much sleep. Neither did I, and I am ignoring the sore throat I am feeling.
I finally got the rest of the jellyfish artwork on Zazzle! Well almost all. I just have a few small individual items like lamps, trays etc. That I can do throughout the day. Also getting things set up and ready for the yard sale. That is coming up fast.
Here is one of the uploaded products of the jellyfish.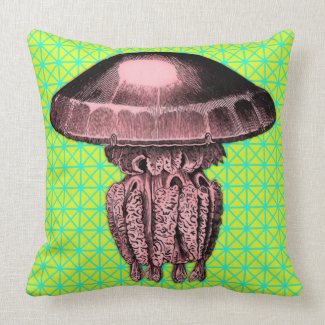 Jellyfish Throw Pillow
by
Kinder_Kleider
Browse Jelly Pillows online at
Zazzle.com
Off to get my son breakfast and keep an eye on him. He never had an ear infection so I want to keep watch and hopefully it isn't one.