Was a beautiful weekend, couldn't ask for better weather. Today is a road trip with the family. It will be fun!
Guess what??? I finished all 27 motorcycle images! They have been converted to watercolor paintings. They look much better. They were ok before but not really versatile in all the different products I can place the images on. Now the sky is the limit! I just have to work some image magic and upload them to Zazzle. But first I must decide on a background that will tie all the images together, just in case you want to have them as artwork and they will match each other.
Another chicken in the series today!
Vintage Leghorn Chickens
I like this one too! Check them out
here
.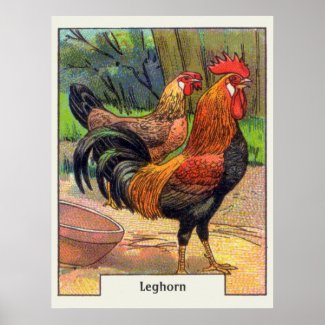 Vintage Leghorn Chicken Poster
by
Kinder_Kleider
Print posters
online at zazzle.com
---