I have decided on a rusty diamond plate for my motorcycle background. I really not 100% sold on it until I see how it looks on products, second choice is a red rusted metal texture, then a birch bark. Any way I am covered and can begin the upload processes. I do have most of them resized for Zazzle, once the 27 are done then I will upload and create!
Going to try some fishing today, if my son doesn't then tomorrow I will go and see what I can catch.
ENJOY THE WEEKEND!!!
Only three chicken images left, here is one!
Vintage Orpington Chicken
Another lovely chicken, I think this is the type I saw at
Reptileland
during their Dinosaur program! Check the chicken out
here
.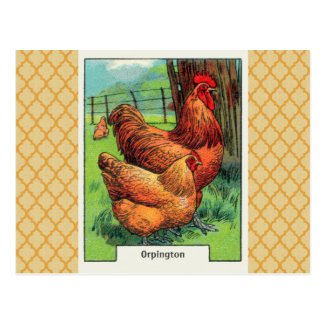 Vintage Orpington Chicken Post Cards
by
Kinder_Kleider
Try
post card printing
using zazzle
---