Okay, I have been very diligent in saving my computer projects and turning off the computer every night. I have lost a lot of work either not saving or trouble overnight like last night. I was working on a holiday image and let my one computer program process it. It was late and it was going to take some time so I thought I would check in morning. Well out of all the nights that I picked to leave the computer on was the one night Windows did an update and restarted my computer and caused me to lose all my work...sigh. Now to start over and never (well I will try to never) do that again.
Today is the second sulky racer, I showed you one yesterday, one today and the last one will come soon!
Vintage Sulky Horse Racing
Just some small repairs and color correction!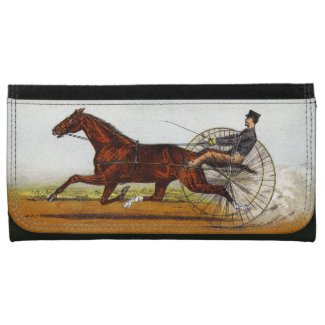 Vintage Sulky Horse Racing Wallet
by
Kinder_Kleider
Check out Horse Wallets online at
zazzle
---