I have the body of the spider covered in black felt, hand sewn, all by hand. Next is to add a shiny fabric my son likes to the body of the spider to make it look spooky. Then construct the harness and then I am almost done. I need to get black pants for him and then picture time. Boy my hands hurt but I want it done today but I have a feeling I will be adding claw like ends to the spider legs!
Well I have another vintage bird print to showcase today. Will get back to artwork once I finish the costume.
Vintage Cockatoo Print
I like this one!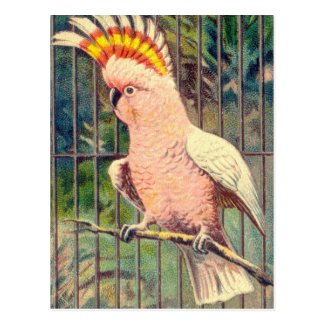 Vintage Cockatoo Print Postcards
by
Kinder_Kleider
Create a
Post card
with zazzle.com
---