Going to be baking most likely 4 loaves of gluten free banana bread today. Should be set for the year after that. Can't let bananas go to waste! Since the bread freezes well, we will be set for the upcoming holidays.
Yesterday was fun, my son helped me vacuum and wash the car. He practiced his bike riding skills and we raced R/C cars all within 2 hours. Today is Math day for preschool so watch out numbers!
Today's showcase is a vintage tropical bird print.
Vintage Parrot Print
Some repair to this print and color correction, overall I like it.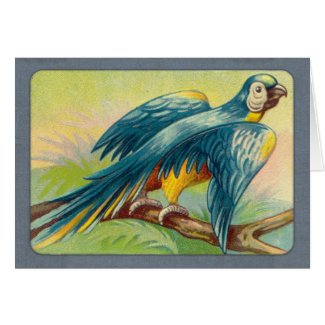 Vintage Parrot Print Greeting Cards
by
Kinder_Kleider
Check out more Parrot Cards at
Zazzle
---