Today is Taco night, turkey or beef. As my son says, I can eat tacos every meal every day! Dare I say how much weight I gained after my surgery....no I won't but I will say it was quite noticeable! Well I have shed half of the gained weight and hopefully the other half will come off soon. I ate more grains than usual and that just packs right on as weight gain. Mainly because being gluten free grains they have higher sugar content and that is no good for me.
I should have a solution for my slow computer soon....got some pc cleaning software and we will see if that helps.
Here is a nice vintage cycling print.
Vintage Cycling Print
Just some color modification need on this old print. Something about these cycling prints that draw you right in!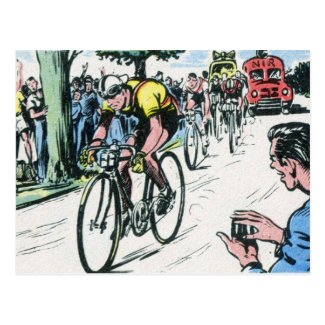 Vintage Cycling Print Postcard
by
Kinder_Kleider
color postcard printing
by zazzle.com
---