I am starting to almost, very closely to feel normal after having surgery. I still have pressure that is annoying, not painful but constant and distracting. I can begin exercise again so I am doing just a bit to start out and increase as time goes on. I also hope to get my posts back up to every day Monday thru Friday. I haven't slept much since surgery and that has effected my whole routine.
But here is a new uploaded design to start off Monday.
Vintage Birds on a Branch Holiday Greeting
I love the sunset colors of this print, had a few areas of repair and voila, a unique and fresh holiday greeting!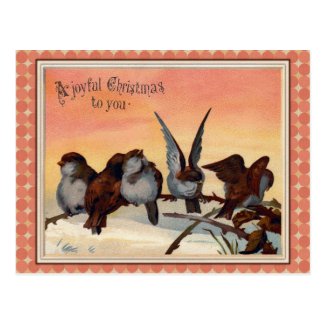 Vintage Joyful Christmas Birds Post Card
by
Kinder_Kleider
Make your own
custom photo postcards
on zazzle.
---